Bringing hospital cooling into the future with BPHE upgrade
Every technology is designed for a wide range of applications and has its own pros and cons, but sometimes there are many advantages to choosing one technology over another. Heat exchangers have different technologies and can be used in many application processes. However, with the correct technology, it is possible to optimize and increase the efficiency of the application.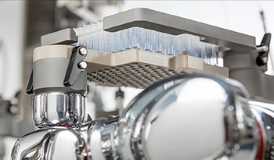 Optimizing freeze drying solutions for the Pharma Industry
For more than half a century, IMA Life Freeze Drying Solutions has been the gold standard when it comes to providing the benchmark for freeze drying solutions to the pharmaceutical and biotech industries.
Britischer Supermarkt reduziert seinen Kohlendioxid-Fußabdruck mit innovativer Technologie
Der Supermarktkette Sainsbury's gelang eine erhebliche Reduktion ihres CO2 Fußabdrucks für eine Heiz- und Kühlinstallation in der 9.300 m2 großen Filiale in Crayford in der englischen Grafschaft Kent. Dies wurde durch Einsatz innovativer Technologien in Kombination mit einem intelligenten Energiemanagementsystem erreicht.
Environmentally friendly supermarket
Keeping food fresh with CO2 and brine. Supermarket refrigeration systems commonly use synthetic refrigerants such as R404A and R22.
Cooling food with transcritical CO₂
Die Wissenschaft ist überzeugt, dass die vom Menschen verursachte globale Erwärmung zu einem Klimawandel führt.
Breaking new ground for transcritical CO2 systems
BITZER Australia approached SWEP to create a new transcritical CO2 system for a Woolworths grocery store in Sydney, Australia. SWEP has led the global development of ultrapressure BPHEs for transcritical supermarket refrigeration for the last decade and was prepared to solve the challenges that the hot Australian climate poses for transcritical systems.
SWEP BPHEs help maintain playing conditions at top golf course
Southern Hills Country Club in Tulsa, OK was faced with the challenge of maintaining soil temperatures for its new Cool Season Bank grass between 65°F and 80°F degrees throughout the year. With the help of RAE Corporation and the Technical Systems team, along with SWEP BPHEs, a system was designed that will prevent the club's 18 greens from dying in harsh temperatures.
Mayekawa's Propane Chiller paired with SWEP evaporators deliver sustainable solutions for AC applications
SWEP's range of BPHEs (Brazed Plate Heat Exchangers) provide the perfect evaporator solution for Mayekawa's Propane Chiller, creating a high level of efficiency in Air Conditioning applications and utilizing natural refrigerants in the process.
Refriac chillers equipped with SWEP evaporators provide ice skating fun year-round in Brazil!
SWEP's range of high-performance evaporators provides a strong heat transfer solution for Refriac chillers to help maintain the perfect ice rink conditions all year.