Using available energy for productive use
ORC (Organic Rankine Cycle) technology made possible by SWEP brazed plate heat exchangers is being used in Sweden to transform waste heat into renewable electricity. This high efficiency and low maintenance way to produce sustainable electricity is being adopted by district heating systems around the world.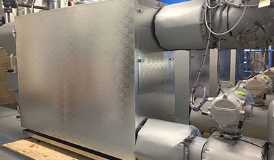 Waste to Energy - SWEP transfer 51MW at Lyngby Kraftvarmeværk A/S
Vestforbraending is one of the largest waste management companies in Northern Europe. The company owns and operates a combined heat and power producing waste-to-energy plant with an annual capacity of 600,000 tonnes of waste. All the heat produced is utilized as the plant is interconnected with the regional district heating system in Copenhagen.
SWEP Wärmetauscher in Windkraftanlagen
Die Windkraft ist eine der am stärksten boomenden Branchen unter den erneuerbaren Energien und überzeugt durch ihre gute Wirtschaftlichkeit
Shining a light on tomatoes
A single J624 from GE Energy with an output of 4 MW can cover the power needs of about 9,000 European households. Moreover, this flagship is helping to shine a light on Dutch tomatoes consumed all over Europe. SWEP's B427 is an integral part of this impressive unit.
Rank® Organic Rankine Cycle technology with applications in heat recovery solution
In a project involving ACCIONA and KEROS CERAMICA, RANK® has worked with SWEP to implement a heat recovery solution for electricity power generation.
Pure water cooling systems
In some applications, such as cooling of power electronics, ions are not desirable. Ions in the water may lead to short-circuit, or spark over in the electronic equipment.
Saubere energie, wenn ORC-system abwärme rückgewinnt
Eine bezahlbare und nachhaltige Energieversorgung ist der Schlüssel für die moderne Gesellschaft wie auch die Weltwirtschaft.
Cooling of test engine
SWEP BPHE's are widely used within test equipment for engine development, where they both serve for realistic engine operation and accuracy in measurement equipment.
Co-generation engine cooler
There are different ways to make electricity. In this case a combustion engine, driven by natural gas, is used.