Using available energy for productive use
ORC (Organic Rankine Cycle) technology made possible by SWEP brazed plate heat exchangers is being used in Sweden to transform waste heat into renewable electricity. This high efficiency and low maintenance way to produce sustainable electricity is being adopted by district heating systems around the world.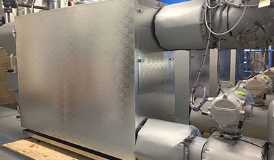 Waste to Energy - SWEP transfer 51MW at Lyngby Kraftvarmeværk A/S
Vestforbraending is one of the largest waste management companies in Northern Europe. The company owns and operates a combined heat and power producing waste-to-energy plant with an annual capacity of 600,000 tonnes of waste. All the heat produced is utilized as the plant is interconnected with the regional district heating system in Copenhagen.
Understanding BPHE efficiency in your systems
SWEP is the world's largest producer of brazed plate heat exchangers (BPHEs). This heat exchanger technology is a great option in terms of efficiency and form factor in multiple applications. This case highlights how to choose the proper heat exchanger and how that choice directly impacts the performance of the system.
Bringing hospital cooling into the future with BPHE upgrade
Every technology is designed for a wide range of applications and has its own pros and cons, but sometimes there are many advantages to choosing one technology over another. Heat exchangers have different technologies and can be used in many application processes. However, with the correct technology, it is possible to optimize and increase the efficiency of the application.
All-Stainless BPHEs: A robust solution to upgrade biogas as fuel to PowerGen
Luming Inteligência Energética had an application where the main objective of the system was to generate electricity reusing the energy contained in the biogas. They needed a compact, non-corrosive solution and SWEP BPHEs were able to deliver.
Airflux- significant cost savings and lowered CO2 emissions through efficient heat-recovery solutions
Airflux, based in Lille, France, is one of the leading providers of air compressors for the French market.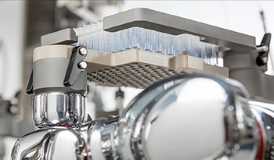 Optimizing freeze drying solutions for the Pharma Industry
For more than half a century, IMA Life Freeze Drying Solutions has been the gold standard when it comes to providing the benchmark for freeze drying solutions to the pharmaceutical and biotech industries.
How Volvo Car Gent is driving sustainability
SWEP's compact and high capacity brazed plate heat exchangers (BPHEs) have allowed Volvo Car Gent to substantially reduce its use of fossil fuels for heating purposes. CO2 emissions have been decreased by 15,000 tons per year, a net decrease of more than 40 percent.
Das Albert Sherman Center an der UMASS
Als die University of Massachusetts Medical School im Frühjahr 2013 ihr 400 Millionen Dollar teures, hochmoderne Albert Sherman Center auf ihrem Campus in Worcester, MA (USA), enthüllte, wurde verkündet, dass dies für die Fakultät "eine neue Ära der biomedizinischen Forschung, der medizinischen Bildung und der Campus-Kooperation einläutet". Eine enge und gute Zusammenarbeit spielte auch eine wichtige Rolle, um die Frage zu klären, wie das 11-stöckige, 47.566 Quadratmeter große Gebäude während der in der Region üblichen warmen und feuchten Sommer gekühlt werden soll.
SWEP's largest BPHE range provides efficient, compact oil cooling solution
One of SWEP's largest BPHEs provided a compact, effective solution that helped Woerner create the ideal oil cooling solution needed for their skid system. Even though our XL range is some of the largest BPHEs we produce, we were still able to provide a much more efficient solution in a smaller package compared to the competing, older technologies like Shell & Tube.
Besseres Energiemanagement für Montpelier
Mithilfe der gelöteten Wärmetauscher von SWEP wurde das Fernwärmesystem der Hauptstadt des US-Bundesstaats Vermont ein durchschlagender Erfolg.
Tele2 Arena
Fußball und Einshockey in einer Halle - dank SWEP B649 Wärmetauschern
Die preisgekrönte Tele2 Arena in der schwedischen Hauptstadt Stockholm ist Austragungsort für Sportgroßereignisse wie Fußball und Eishockey und zugleich Veranstaltungs- und Konzerthalle. Die gelöteten Plattenwärmetauscher (BPHEs) von SWEP sorgen für den schnellen und zuverlässigen Aufbau von Eisflächen in hoher Qualität für Wintersportereignisse.