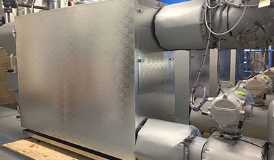 Waste to Energy - SWEP transfer 51MW at Lyngby Kraftvarmeværk A/S
Vestforbraending is one of the largest waste management companies in Northern Europe. The company owns and operates a combined heat and power producing waste-to-energy plant with an annual capacity of 600,000 tonnes of waste. All the heat produced is utilized as the plant is interconnected with the regional district heating system in Copenhagen.
Airflux- significant cost savings and lowered CO2 emissions through efficient heat-recovery solutions
Airflux, based in Lille, France, is one of the leading providers of air compressors for the French market.
How Volvo Car Gent is driving sustainability
SWEP's compact and high capacity brazed plate heat exchangers (BPHEs) have allowed Volvo Car Gent to substantially reduce its use of fossil fuels for heating purposes. CO2 emissions have been decreased by 15,000 tons per year, a net decrease of more than 40 percent.
Das Albert Sherman Center an der UMASS
Als die University of Massachusetts Medical School im Frühjahr 2013 ihr 400 Millionen Dollar teures, hochmoderne Albert Sherman Center auf ihrem Campus in Worcester, MA (USA), enthüllte, wurde verkündet, dass dies für die Fakultät "eine neue Ära der biomedizinischen Forschung, der medizinischen Bildung und der Campus-Kooperation einläutet". Eine enge und gute Zusammenarbeit spielte auch eine wichtige Rolle, um die Frage zu klären, wie das 11-stöckige, 47.566 Quadratmeter große Gebäude während der in der Region üblichen warmen und feuchten Sommer gekühlt werden soll.
Besseres Energiemanagement für Montpelier
Mithilfe der gelöteten Wärmetauscher von SWEP wurde das Fernwärmesystem der Hauptstadt des US-Bundesstaats Vermont ein durchschlagender Erfolg.
Tele2 Arena
Fußball und Einshockey in einer Halle - dank SWEP B649 Wärmetauschern
Die preisgekrönte Tele2 Arena in der schwedischen Hauptstadt Stockholm ist Austragungsort für Sportgroßereignisse wie Fußball und Eishockey und zugleich Veranstaltungs- und Konzerthalle. Die gelöteten Plattenwärmetauscher (BPHEs) von SWEP sorgen für den schnellen und zuverlässigen Aufbau von Eisflächen in hoher Qualität für Wintersportereignisse.
Heat exchangers bring 34% higher capacity to new energy transfer station
More power and less maintenance combined with reliable operation. The new energy transfer station in Danish Glostrup have found a cost-effective solution with two of SWEP's B649 brazed plate heat exchangers.
Pioneer power station with BPHE LNG vaporizers
One of the world's first power stations with BPHE LNG vaporizers has been installed at a gold mine in Perth, Australia. The company behind the project, EVOL LNG, is a leading provider of LNG for transport, power generation and other industrial applications. It provides a trucked natural gas solution to fuel off-grid power stations and deliver a solution with less capital cost than natural gas pipelines and with lower fuel costs than diesel.
Reliable BPHE for sensitive research
After a public tender, the Catholic University of Leuven (KU Leuven) in Belgium awarded Cofely Axima (GDF SUEZ) parts of the contract to build a new chemical laboratory.
Göteborg Energi sees the bigger picture
Gothenburg is a port city with a strategic location between Oslo and Copenhagen. With a population of approximately 530,000 it is Sweden's second largest city. As Western Sweden's leading energy company, Göteborgs Energi has been supplying the city with district heating since 1952. However, the company does not just supply residential and commercial buildings. By adding a car manufacturer plant and a ferry to the grid, energy utilization is optimized.
At the forefront of innovative solutions
A major provider of thermoplastic, thermosetting and elastomer injection molding machines, Negri Bossi India Pvt Ltd knows what is important: reliable performance and efficient use of energy. Ensuring that customers enjoy a major competitive advantage while remaining environment-friendly, their machines represent the industry benchmark for low energy consumption.
Critical IT equipment requires efficient cooling
When the India-based IT company Infosys Technologies Ltd. selected Schneider Electric to install a system for a Data Center Cooling application, Schneider decided to opt for an efficient SWEP brazed plate heat exchanger (BPHE).